A RUNNING RECORD OF PAST WORK
Here's a list of projects, preoccupations, and curiosities that have kept me busy over the last little while. If you have any questions about them, please do drop me a note.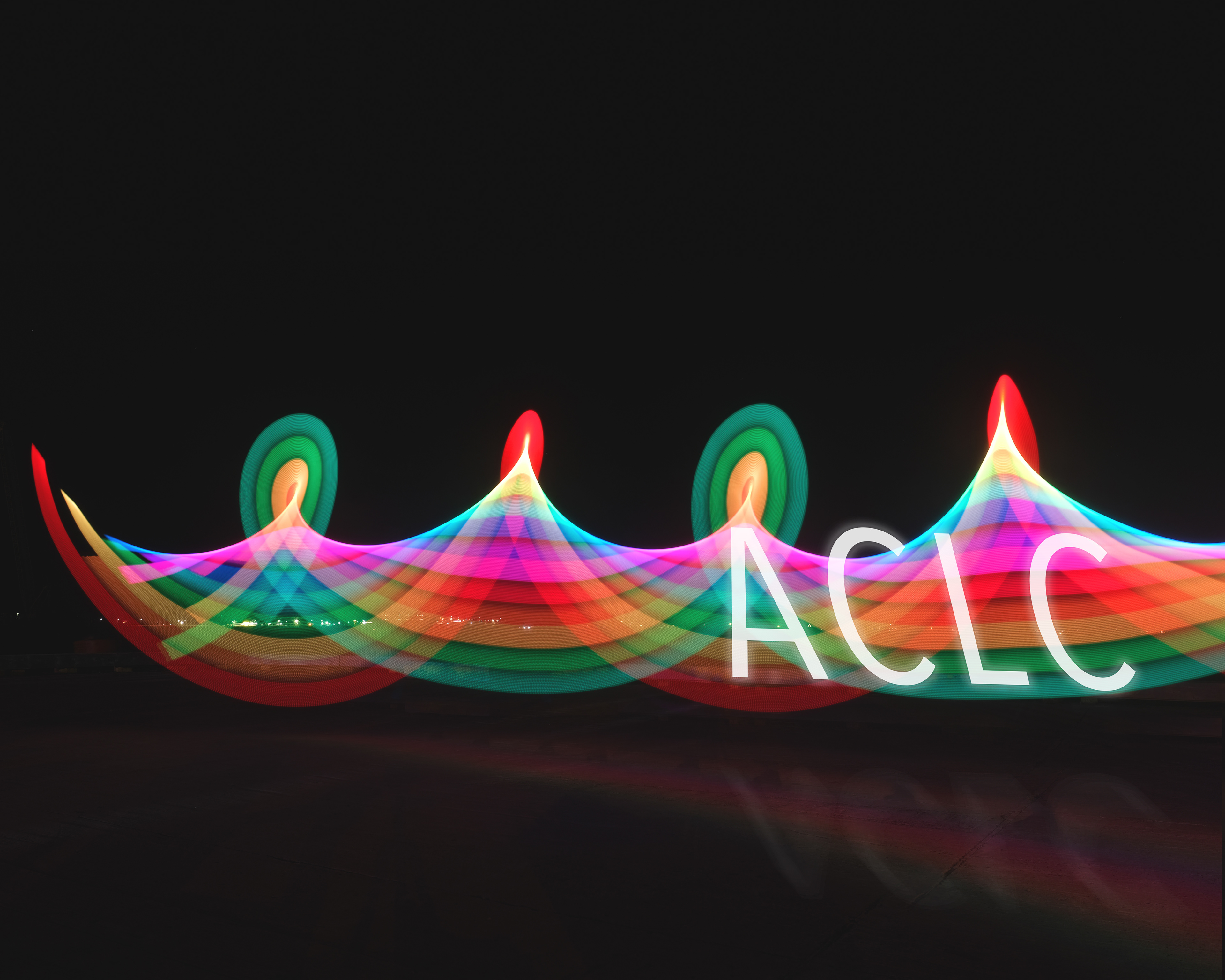 I've had my pixelstick for about two years now, and it's never let me down. The colours you can pull out of it are nothing short of spectacular. It's proven remarkably durable, too: I've forgotten how many times I've bumped into things--it's pretty dark when you're using it, after all, and the thing is about as long as I am--but it just keeps going.
While I have experimented with light painting text, I've never been able to get the lettering quite to my liking, so what you see here is a combination of a few things: one picture for the ribbon, another for the light shadow beneath it, and then some quick photoshopping to create the letters themselves. Things didn't look quite right until I added the shadow to the ACLC and applied a motion blur to it. Otherwise, I didn't have much to do here. Just an eight-second exposure (ISO 160 at f8) with my XT3 and some careful twirling of a six-foot light wand was all it took.
I should say that ACLC stands for Applied Communication, Leadership, and Culture, which is a new program in the Faculty of Arts at the University of Prince Edward Island. It's also where I'll be hanging my hat for the next nine months. With any luck, my students will be up for creating stuff like this. 
A FOOTPATH THROUGH HISTORY:
​​​​​​​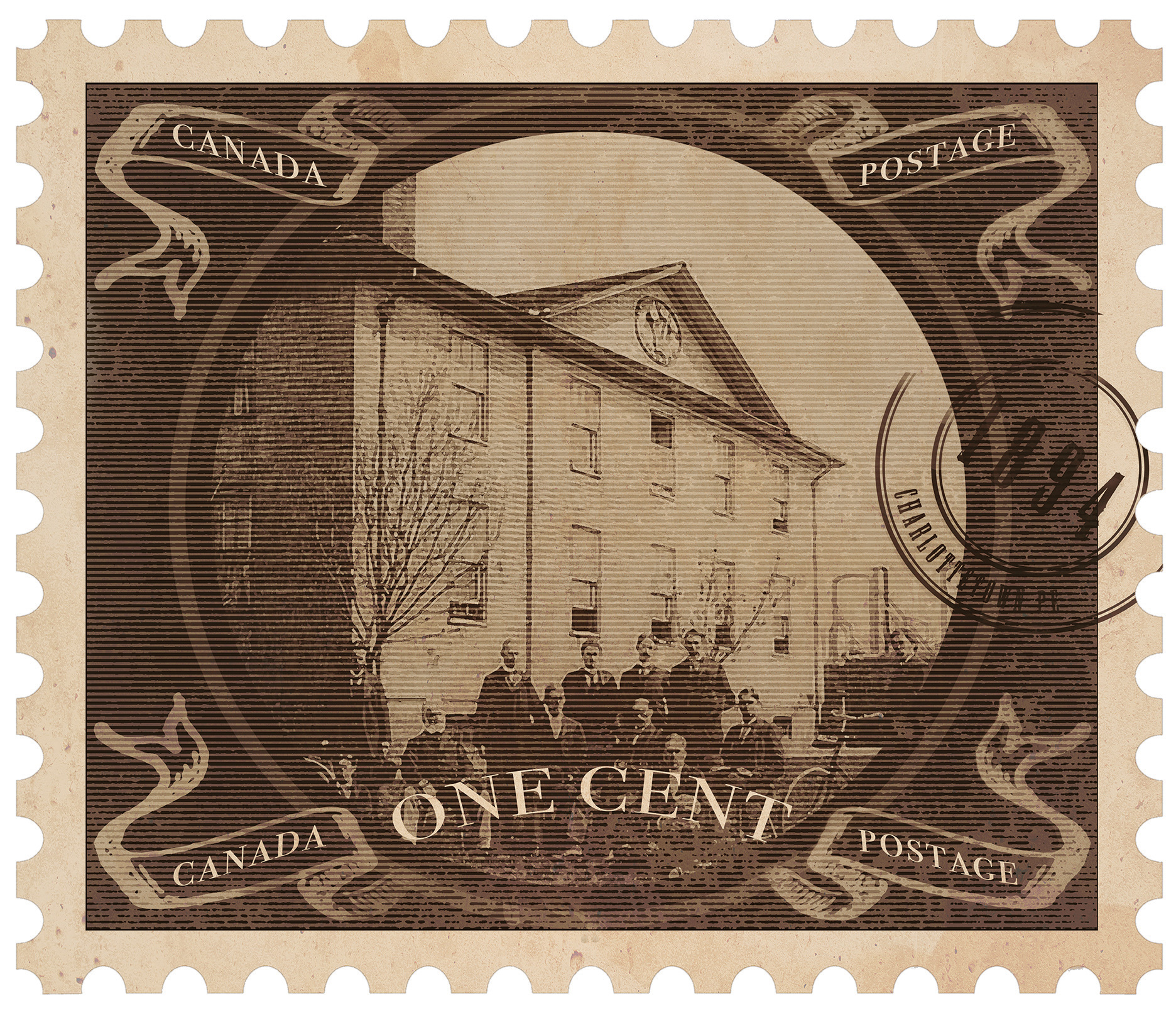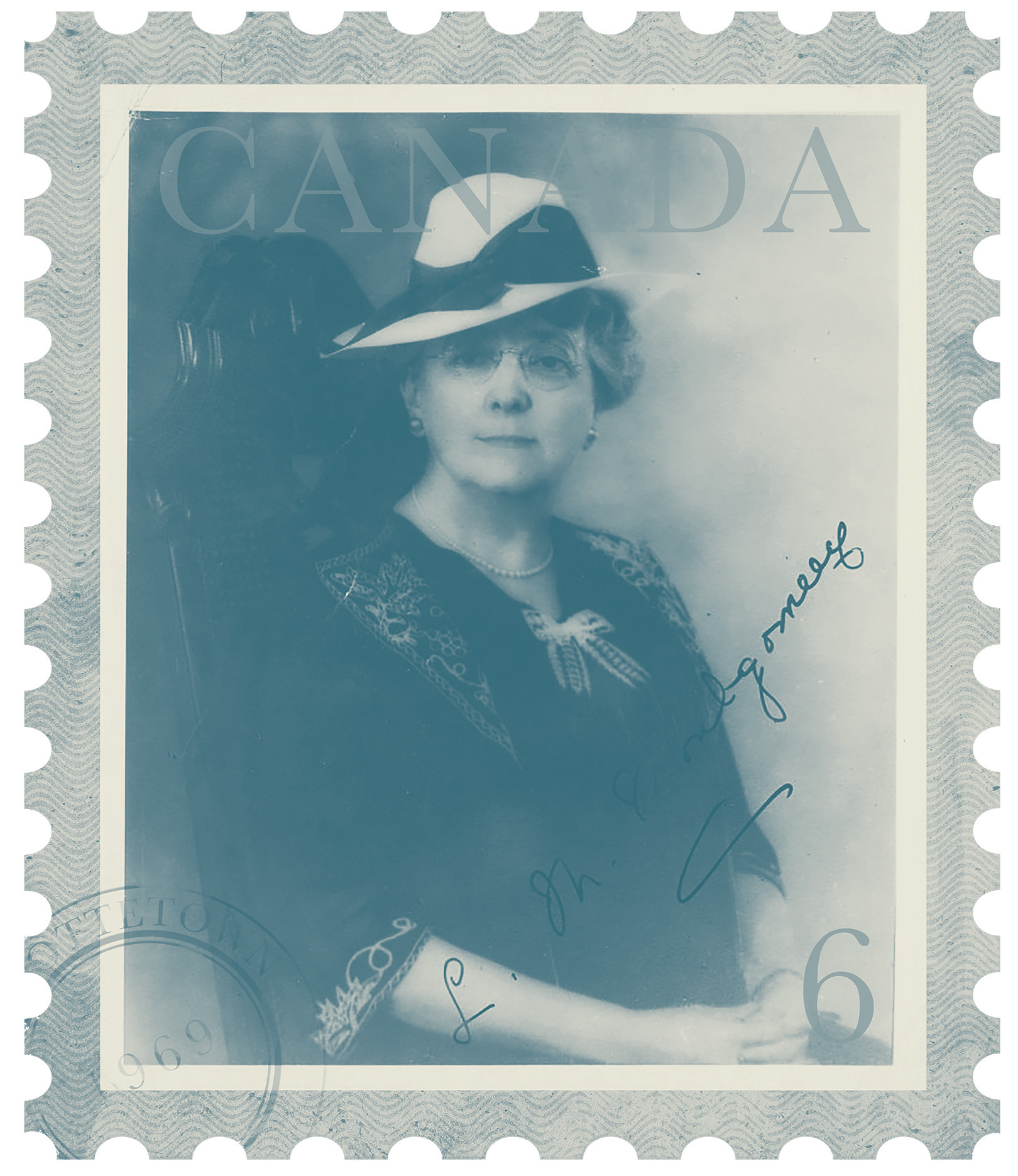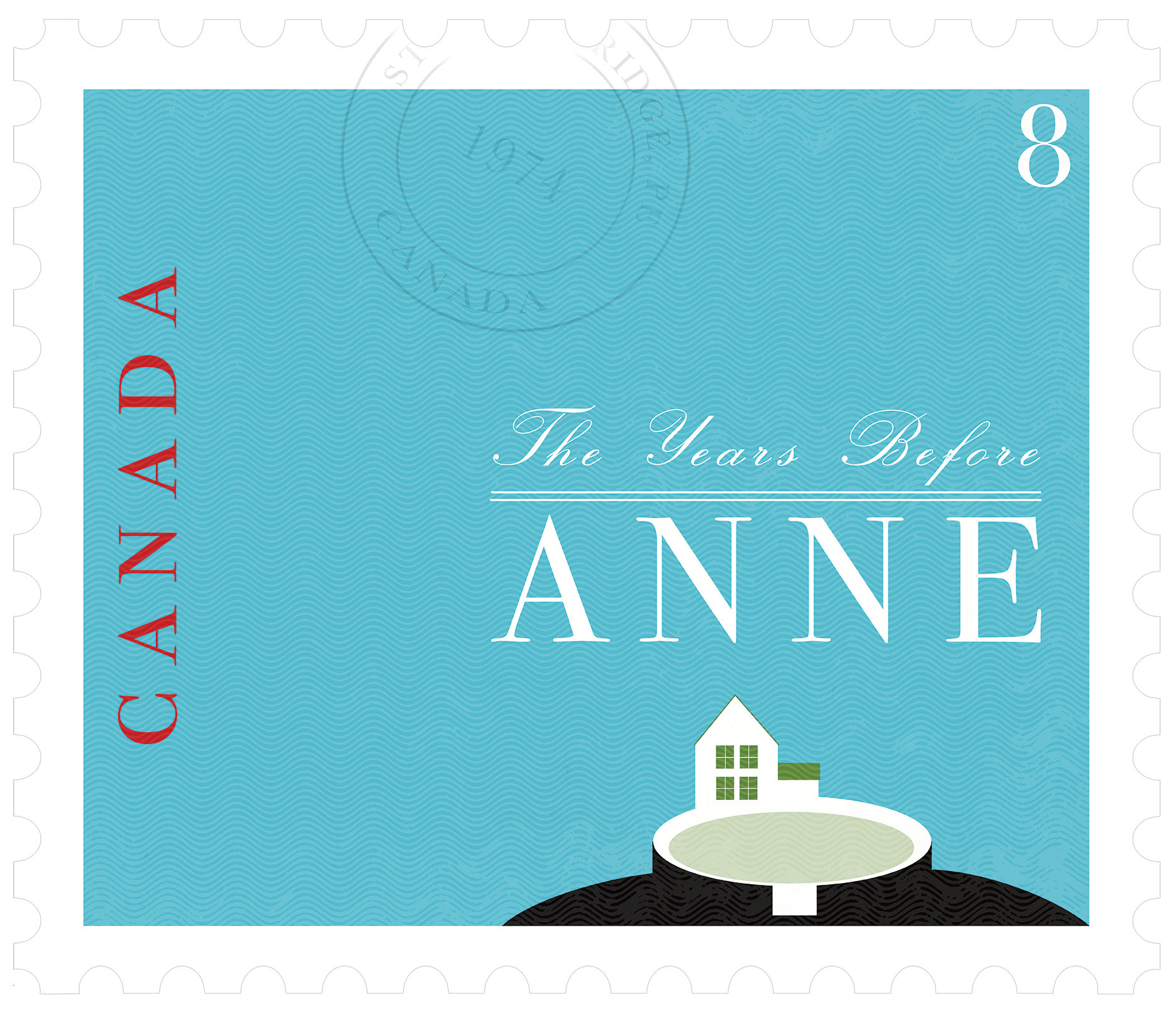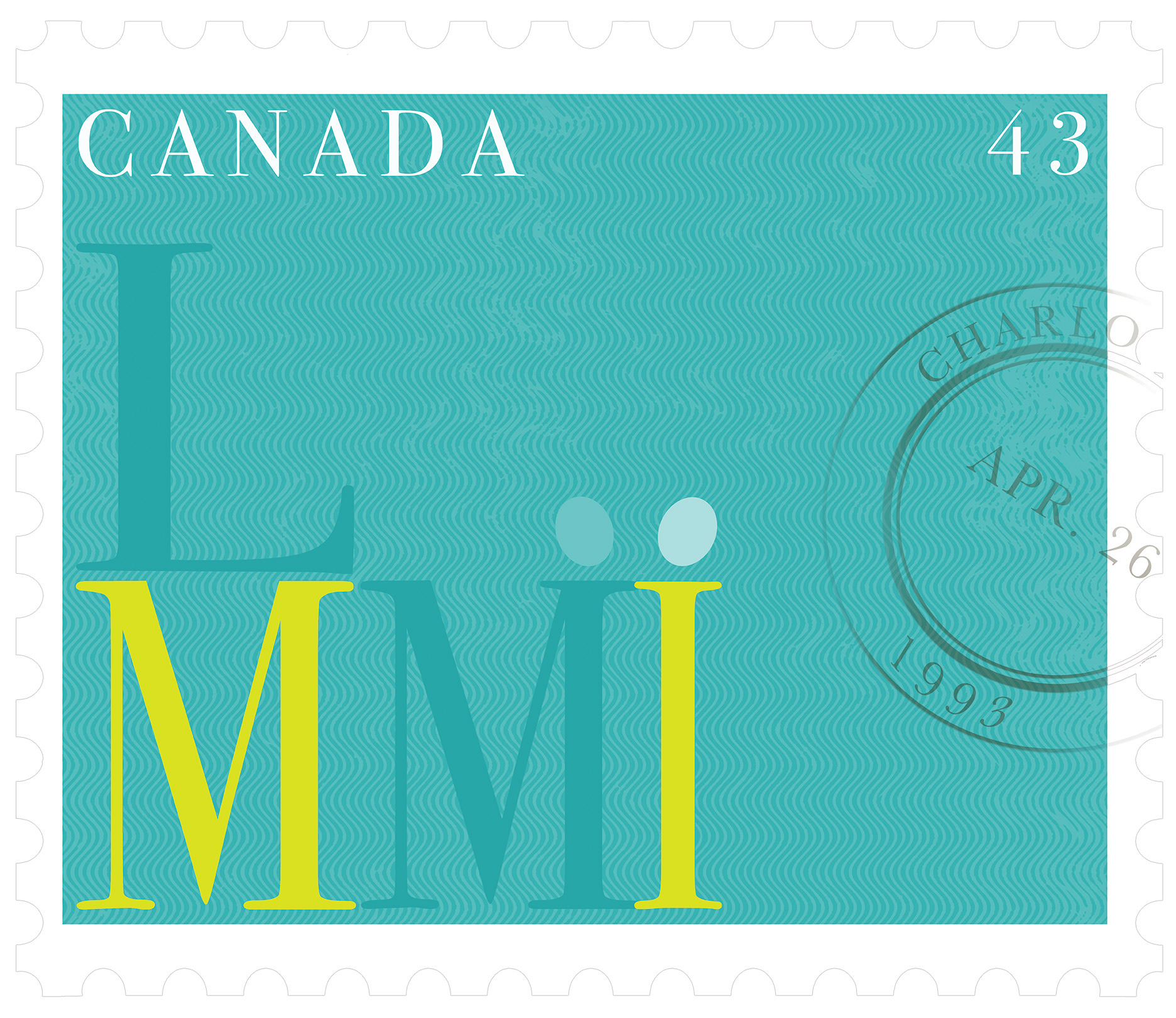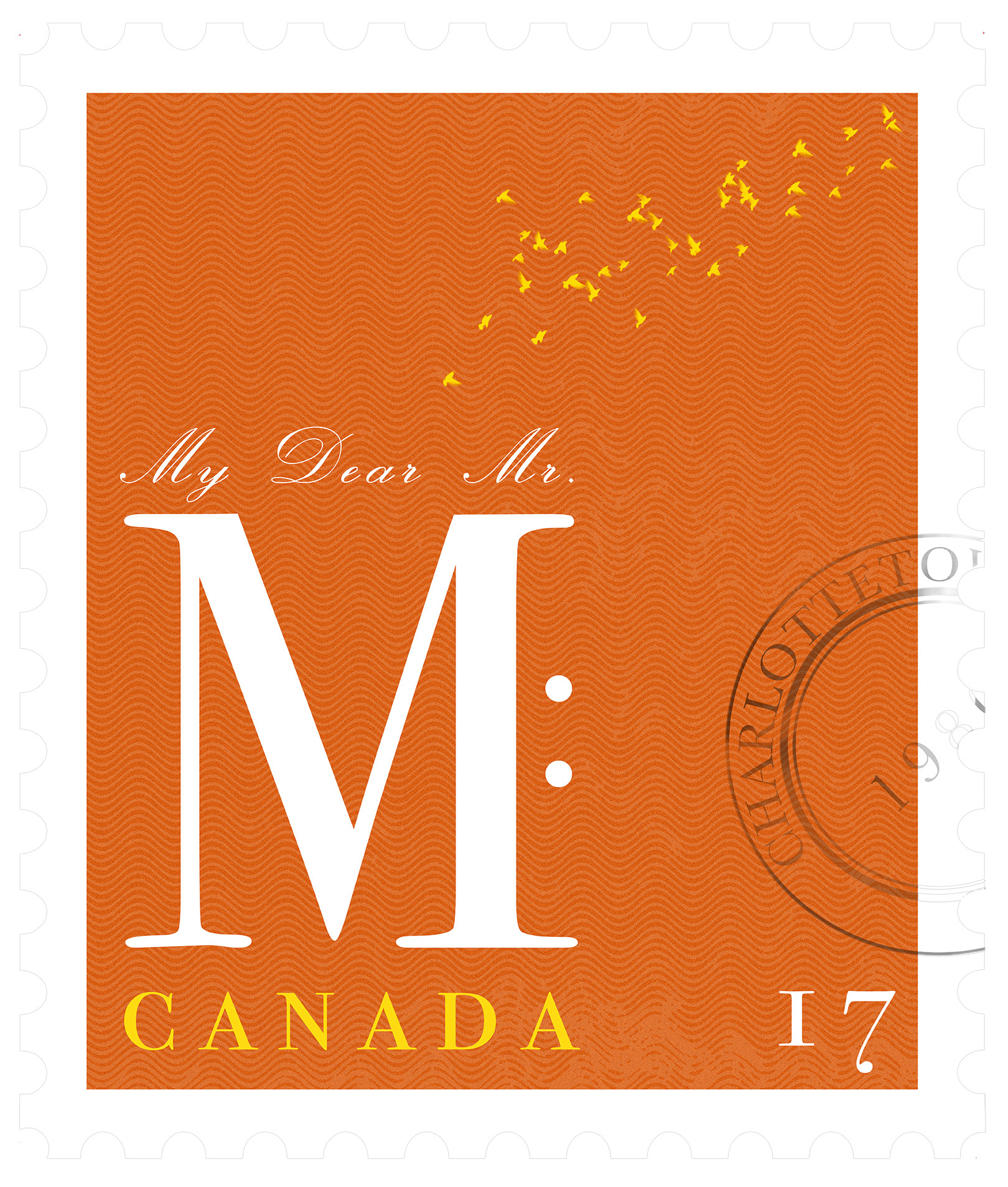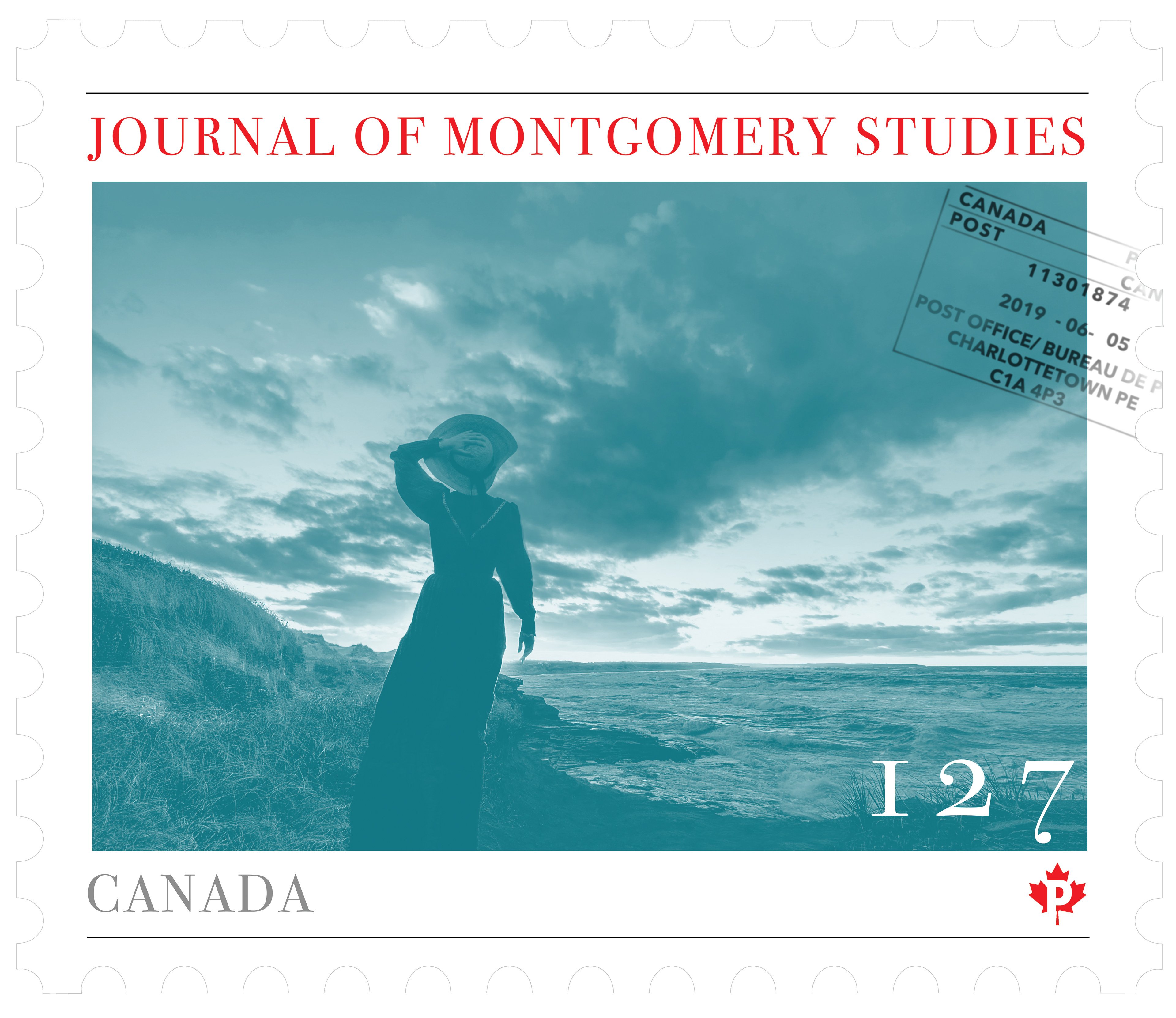 CELEBRATING THE RELATIONSHIP BETWEEN L.M. MONTGOMERY AND UPEI
As the University of Prince Edward Island celebrates its 50th anniversary, different groups across campus are looking for ways to mark the occasion. The L.M. Montgomery Institute, for its part, has a created a digital timeline to mark key milestones in the relationship between Montgomery and UPEI; this interactive display is now publicly available for viewing in the lobby of the Robertson Library. 
In order to call attention to the screen where the timeline is displayed, I designed a series of oversized stamps to help visualize how the relationship between UPEI and the LMMI has evolved over time. These stamps now form a path on the library floor, as they were printed and applied as decals to add another level of interactivity to the exhibit. I'm currently working on an essay where I talk about the challenges of this sort of endeavour, so I won't go on at length here, but I will say that I have a new appreciation for stamp design. It's fascinating and challenging work.
We knew that the stamps would need some captioning to help explain the significance of these dates, so I also created some postcards to present the accompanying text. If ever you want to lose a few hours, google "postcards" and "1920s." The early part of the twentieth century really was the golden era for this type of correspondence. The phrases typeset on the postcards are this wonderful combination of the playful and the prescriptive. Whoever wrote them had a great time.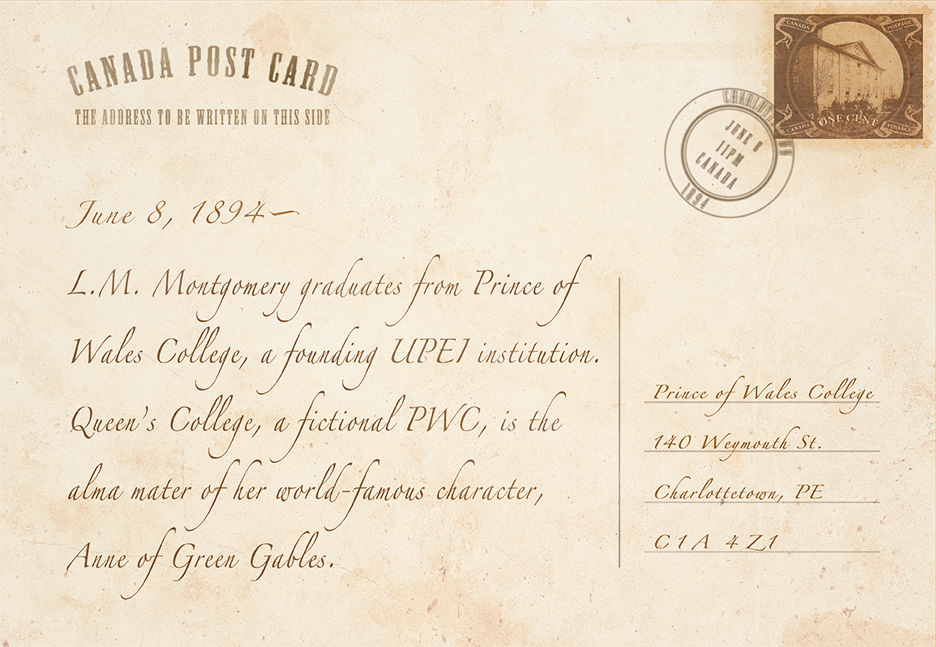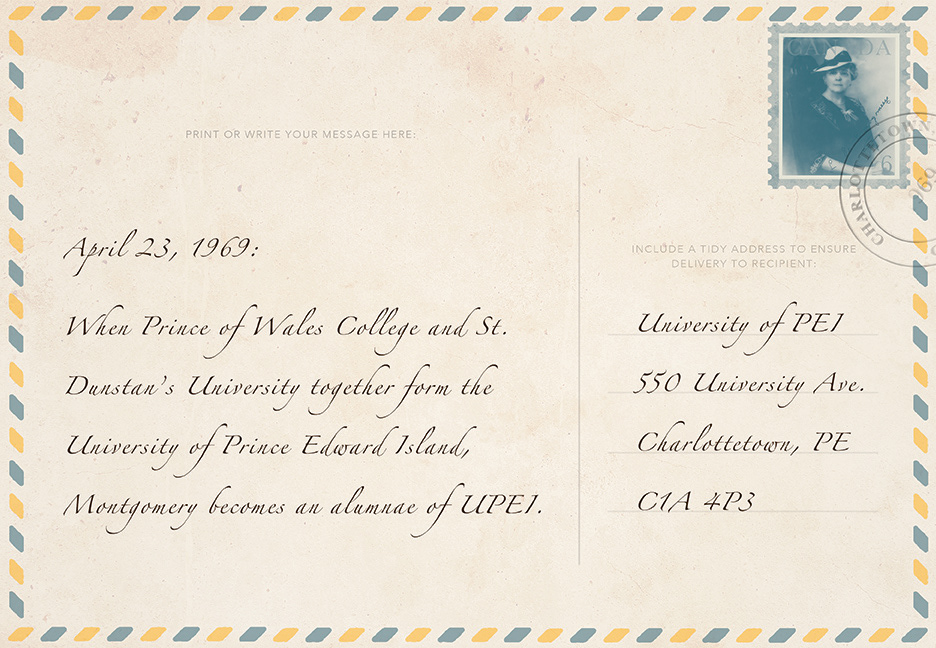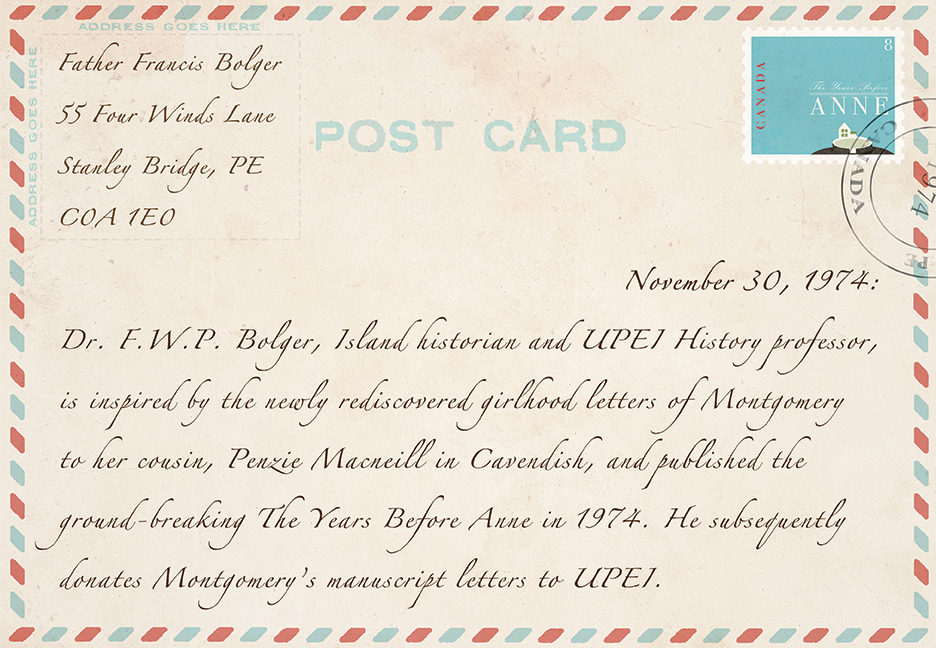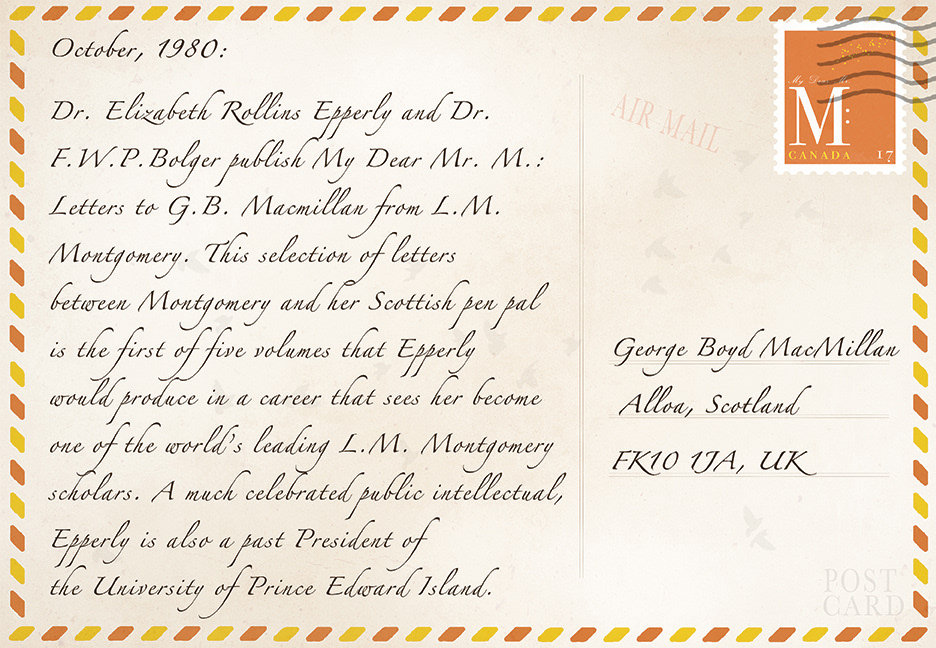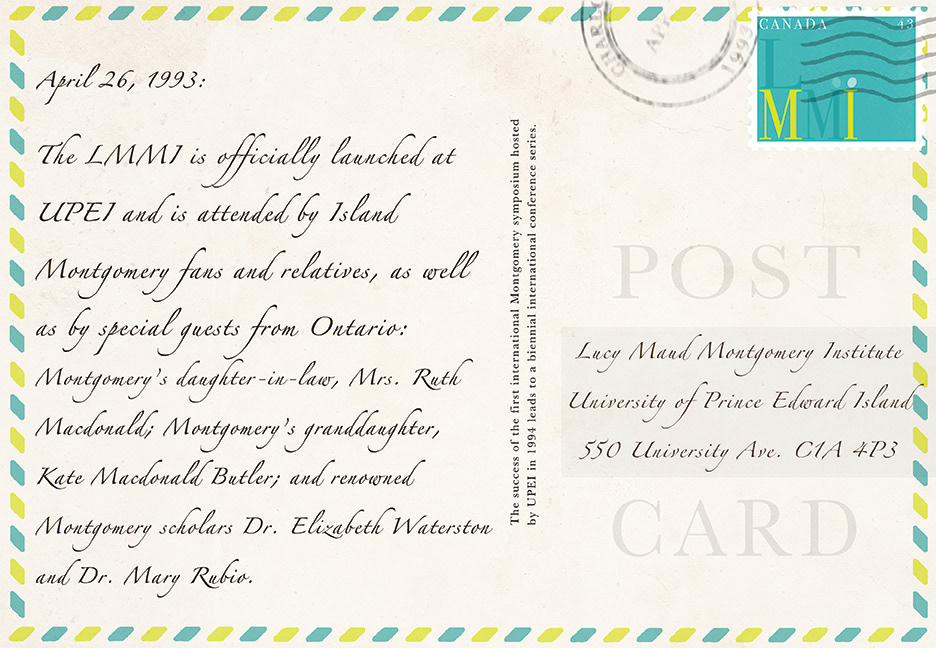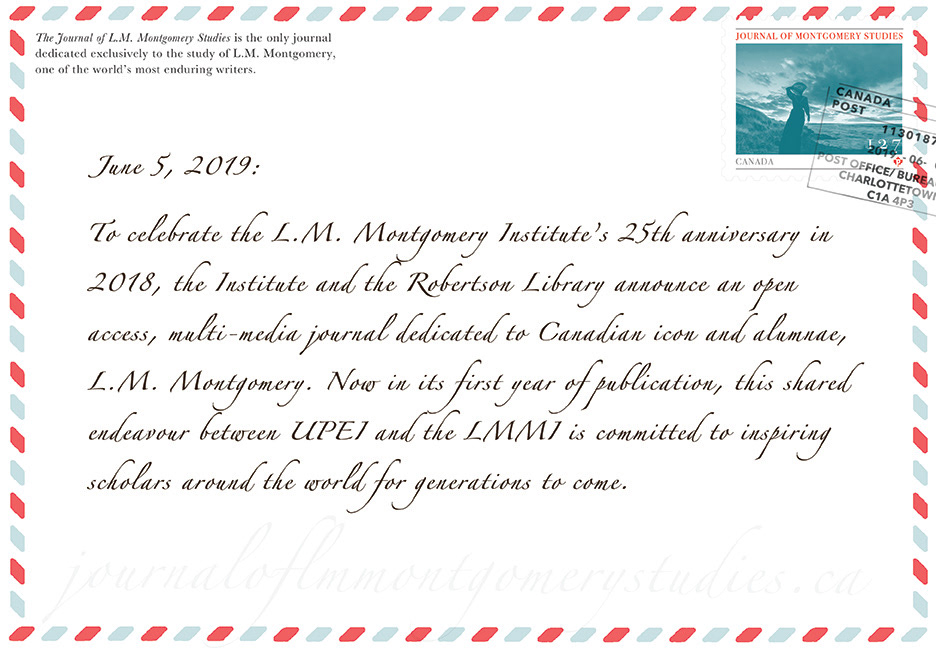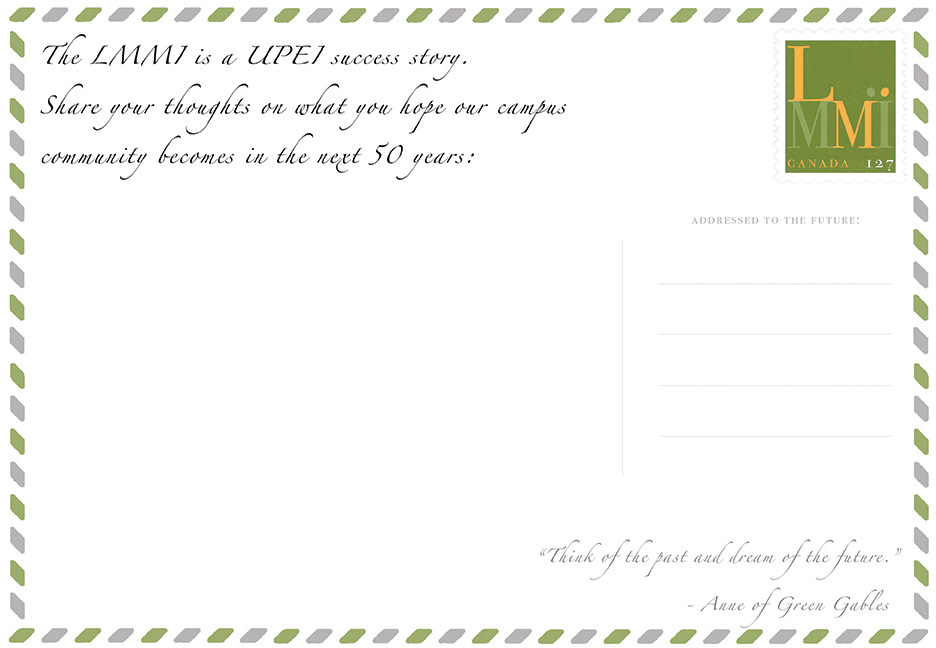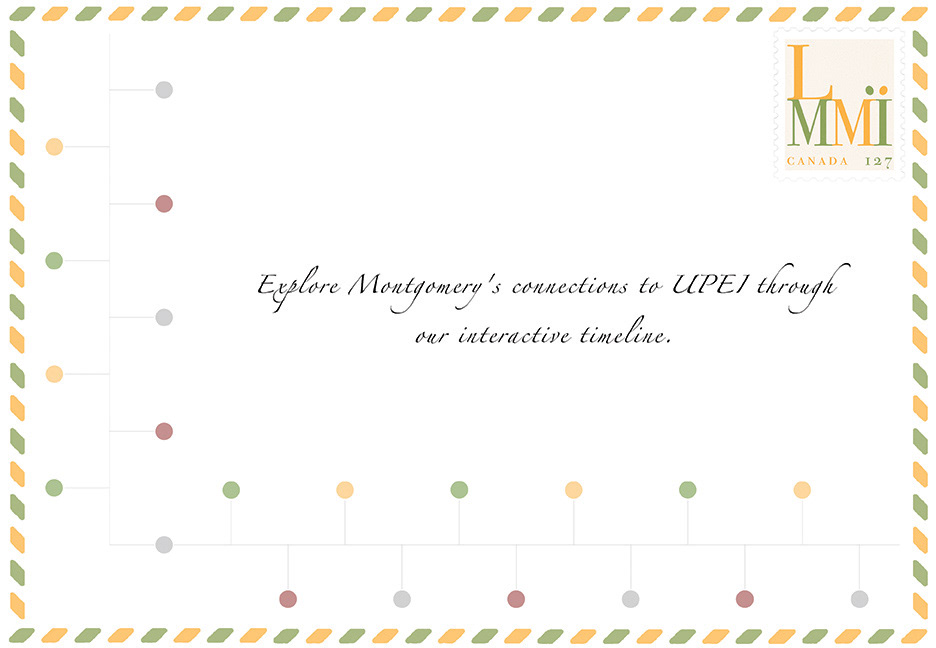 THE ARTFUL ASTRONOMY OF L.M. MONTGOMERY
​​​​​​​
The Artful Astronomy of L.M. Montgomery

 began as a chapter in my Ph.D. dissertation on Canadian literature and light pollution, and has since grown into an interactive display that blends print and web media in order to create what I hope is an engaging user experience.

The project as a whole
 is emblematic of my approach to the public Humanities, as it combines photography, writing, research, animation, and design in order to produce a responsive display that is interdisciplinary, both in content and in form.

One of my favourite parts of this project has been coming up with visuals to help tell the story. I did most of the work in Photoshop, where I was able to create many of the celestial objects, both real and imagined, that Montgomery mentions in her writing. After Effects came in handy, too, as having the ability to export animations as image sequences made the display all the more interactive.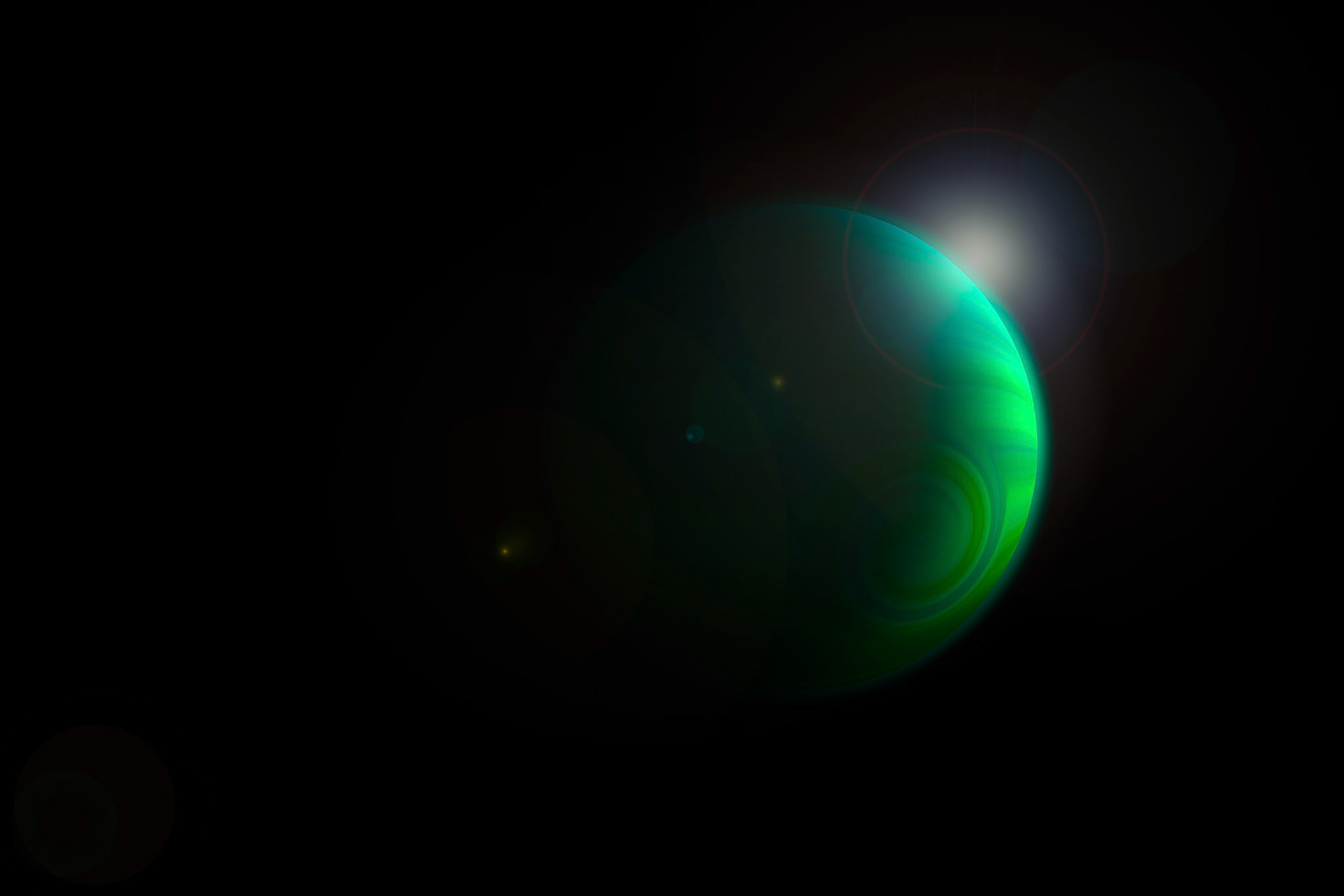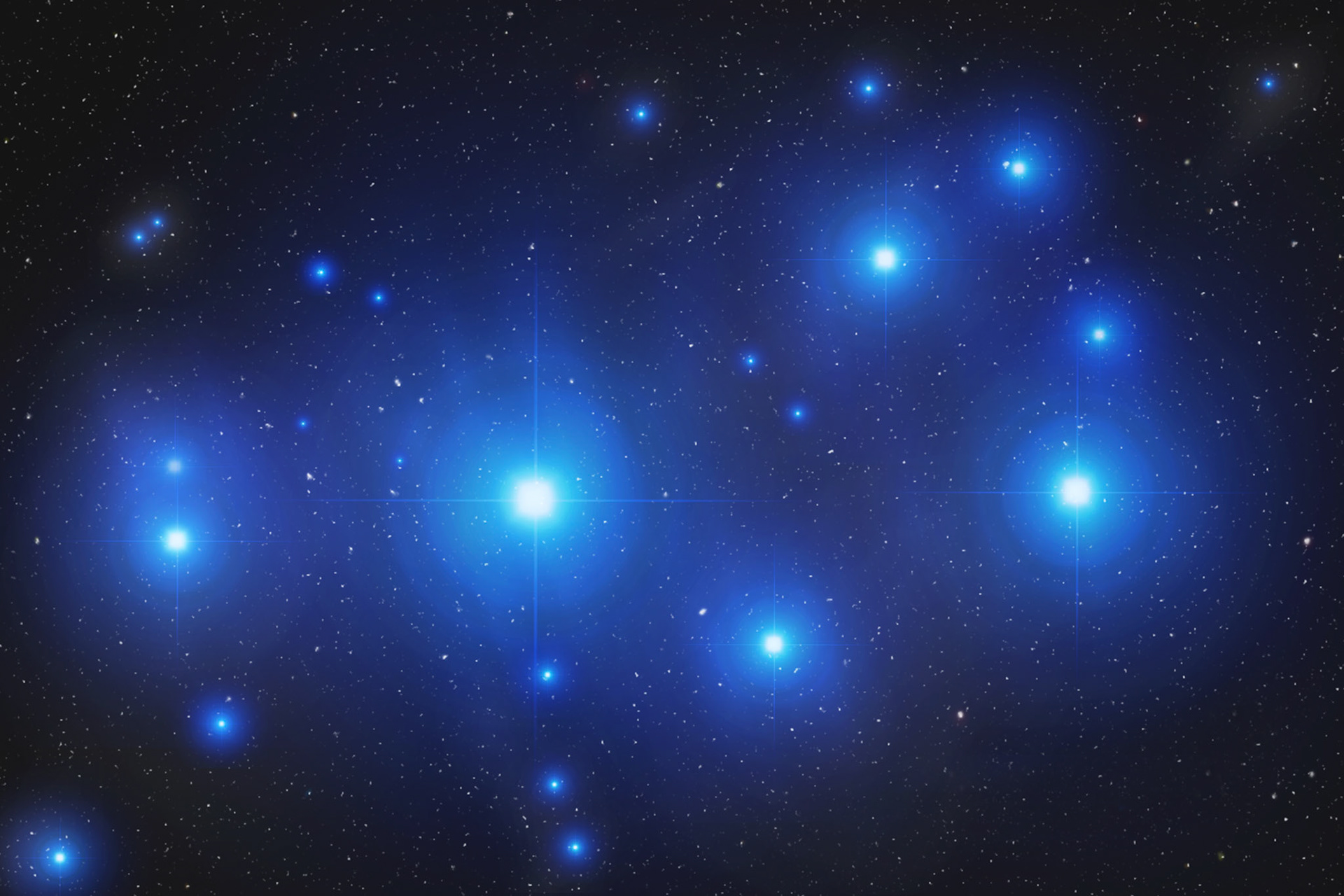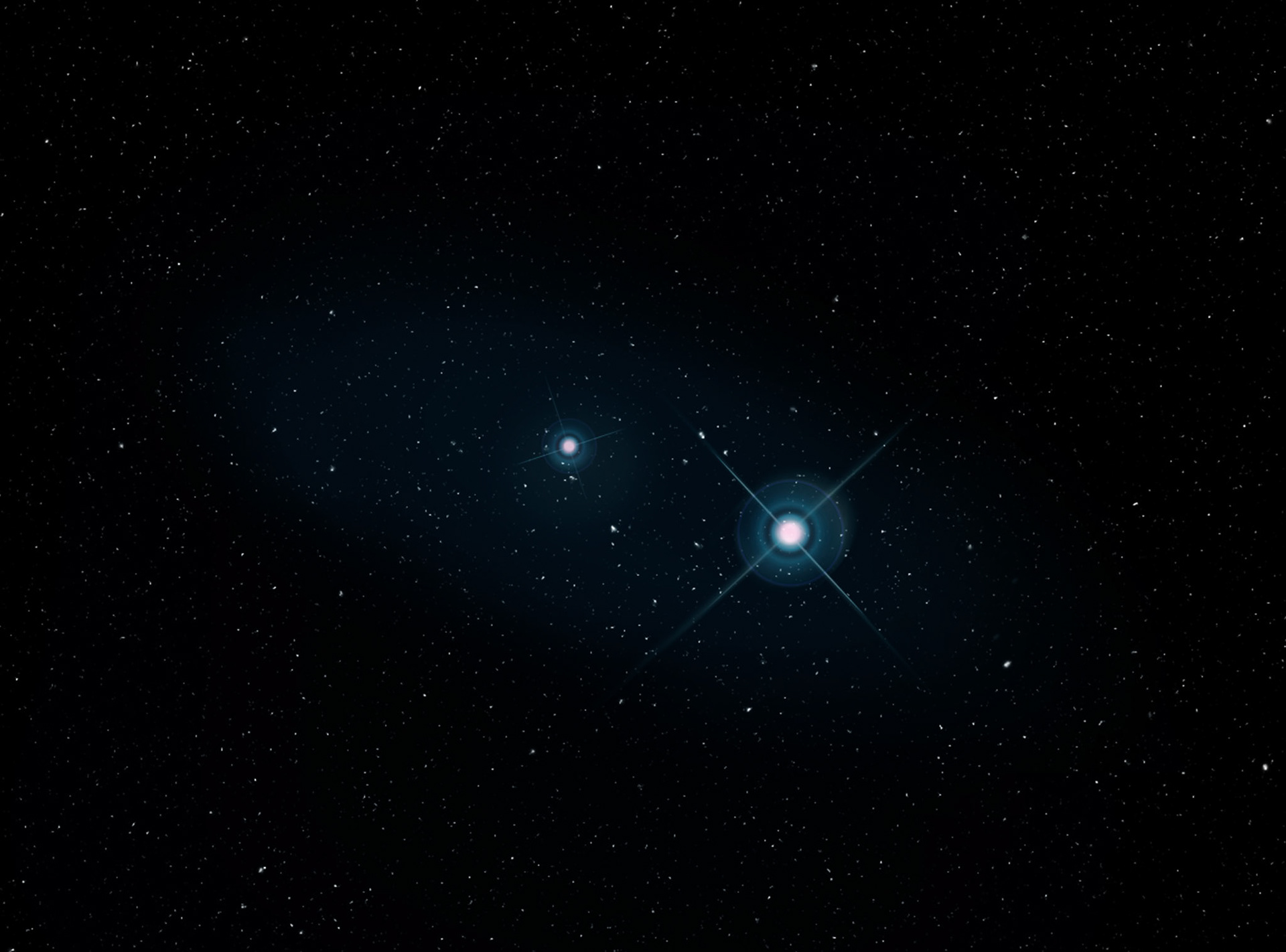 In Montgomery's writing, comets are potent reminders of youth and desirability that fortify the spirit and that awaken the self to new possibility. Given her investment in these celestial visitors, it was important that I capture visually the sense of vitality that Montgomery saw in them. I wanted my comets to appear as photorealistic as possible, entirely because Montgomery was an ardent student of astronomy, and, as such, would have known what comets look like. 
At the same time, I wanted to ensure that my comets were the vibrant symbols of freedom that Montgomery had in mind, and so I accentuated their comas and nuclei with colours that dramatize their flight paths through space.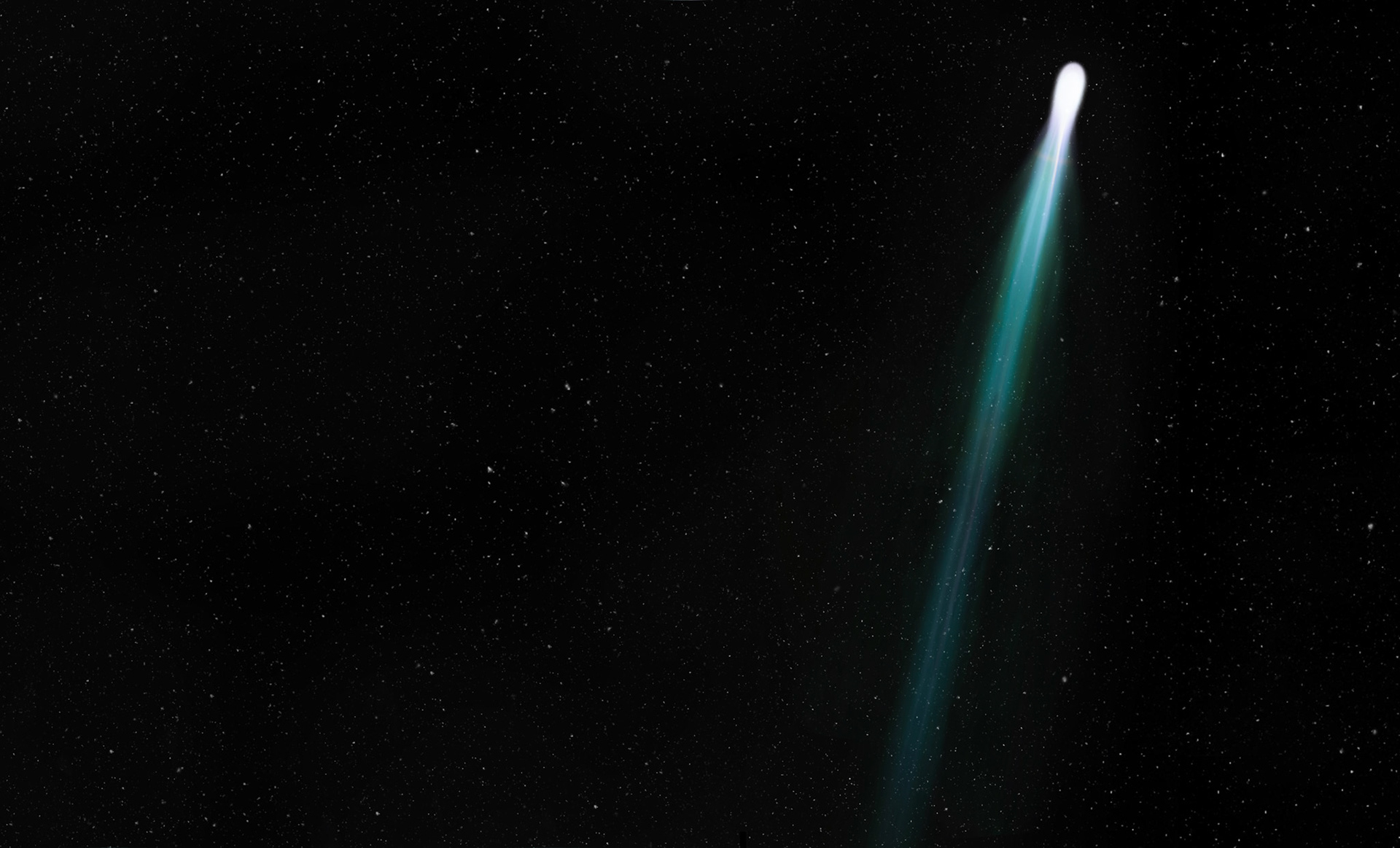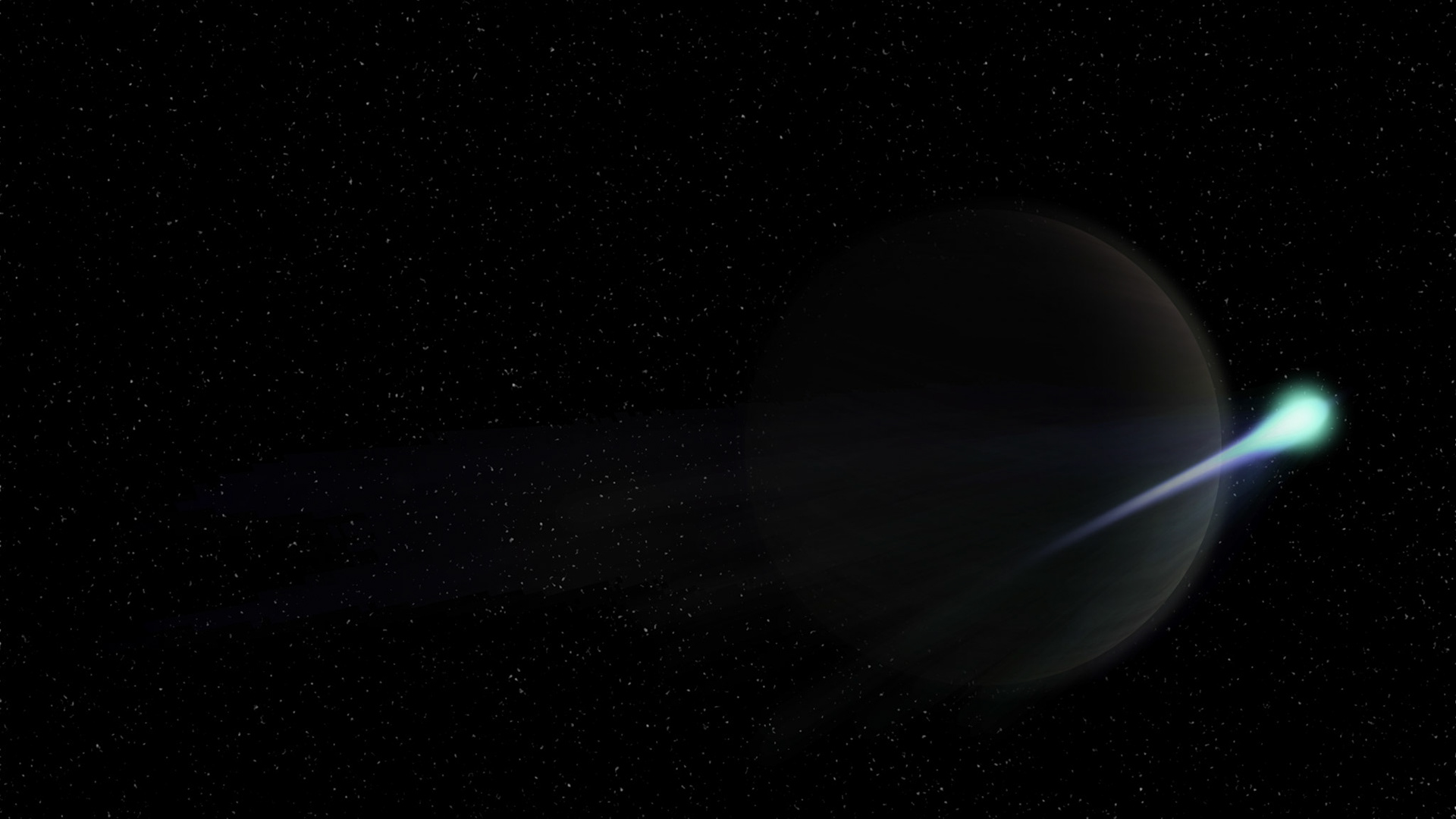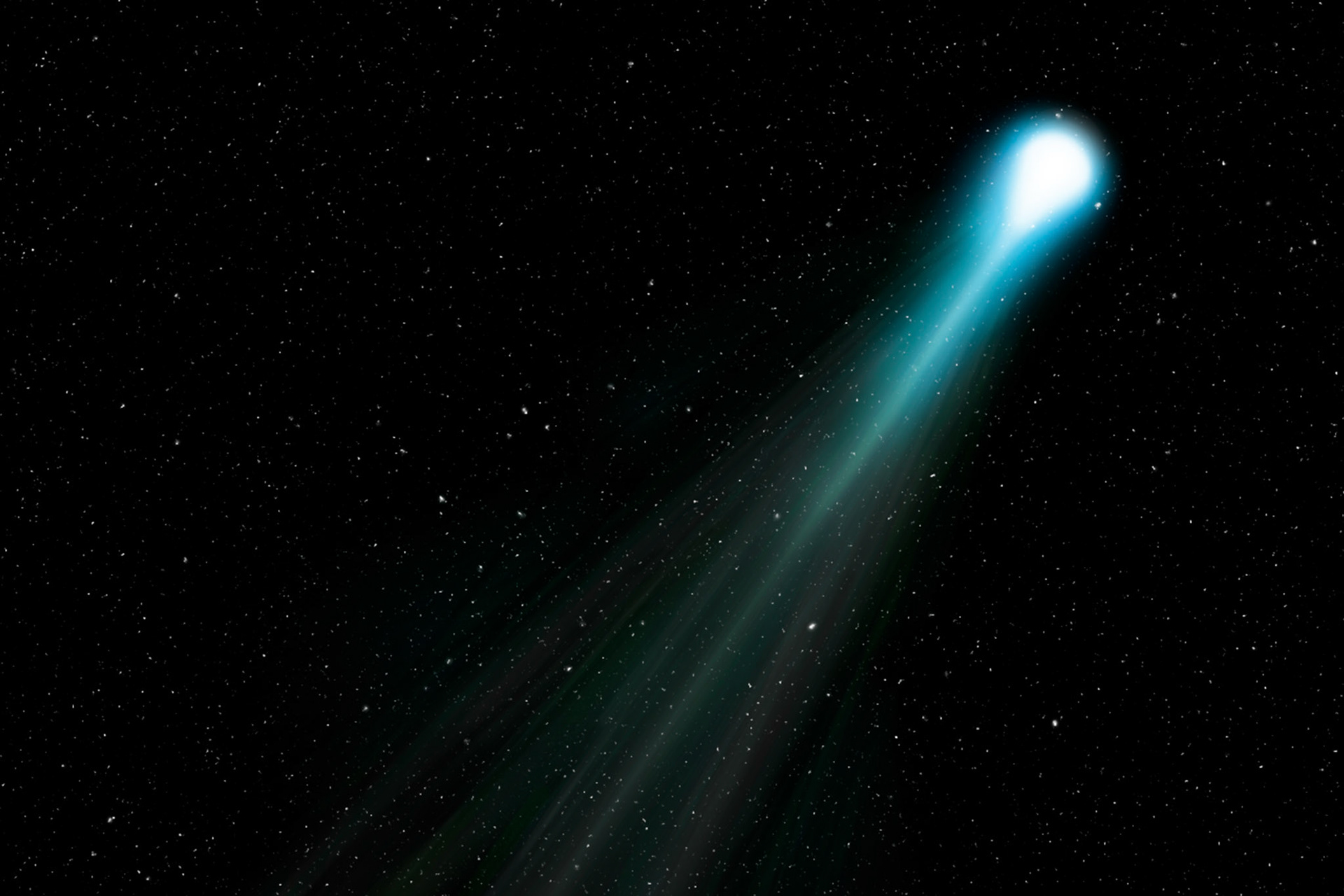 In the winter of 1925, Montgomery reports in her journal that she read "a delightful book of astronomy by Camille Flammarion." The French author's description of "a world lighted by colored suns," in particular, appears to have resonated with her, and so I wanted to depict this enchanted scene. 
I started by taking a photograph of a beech tree, which I then used to create the surface of Flammarion's world. Textures like these are invaluable for creating realistic representations of what are otherwise imaginary realms. From there, it was just a matter of adding a series of adjustment layers in Photoshop until the planet appeared both believable and alien at once.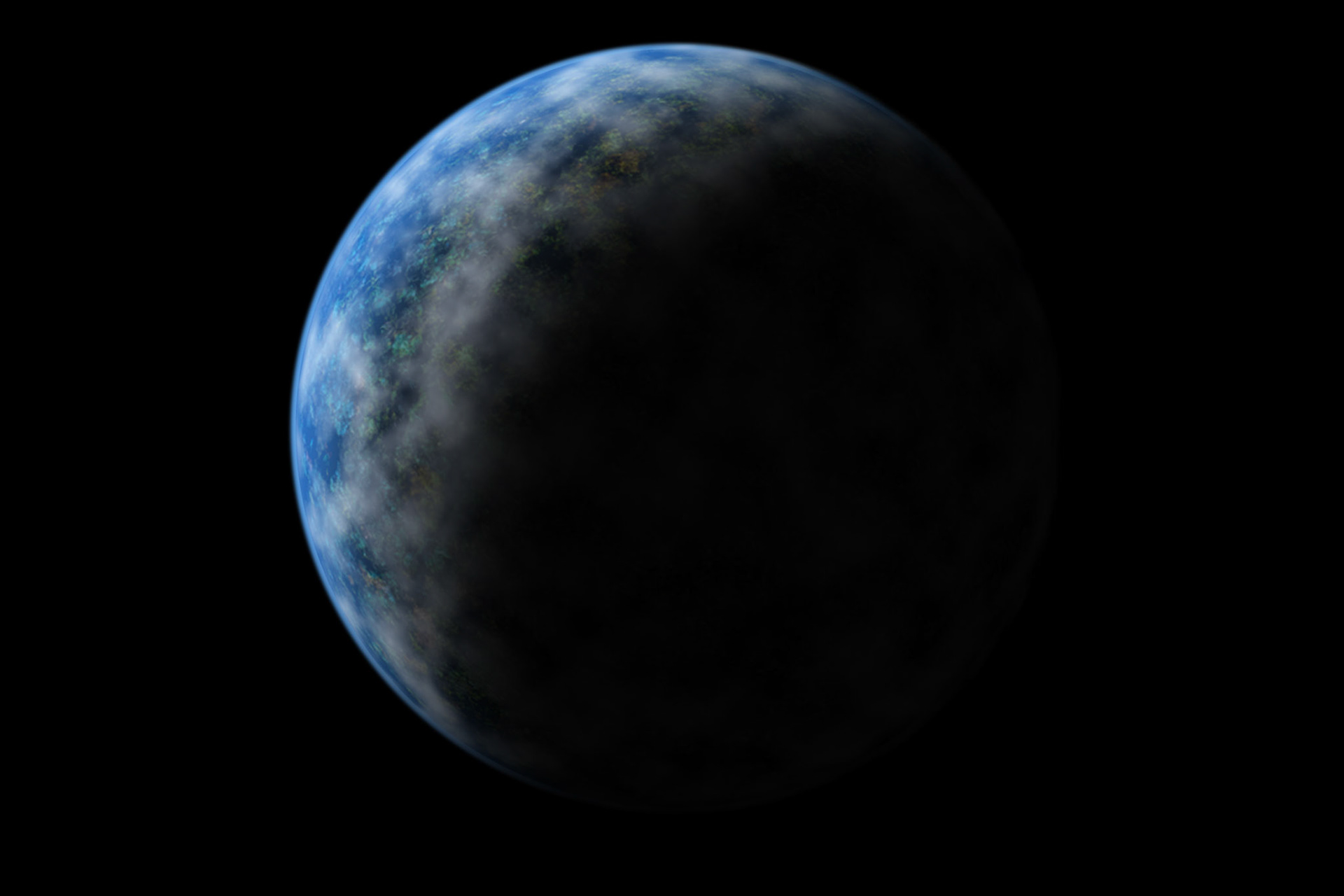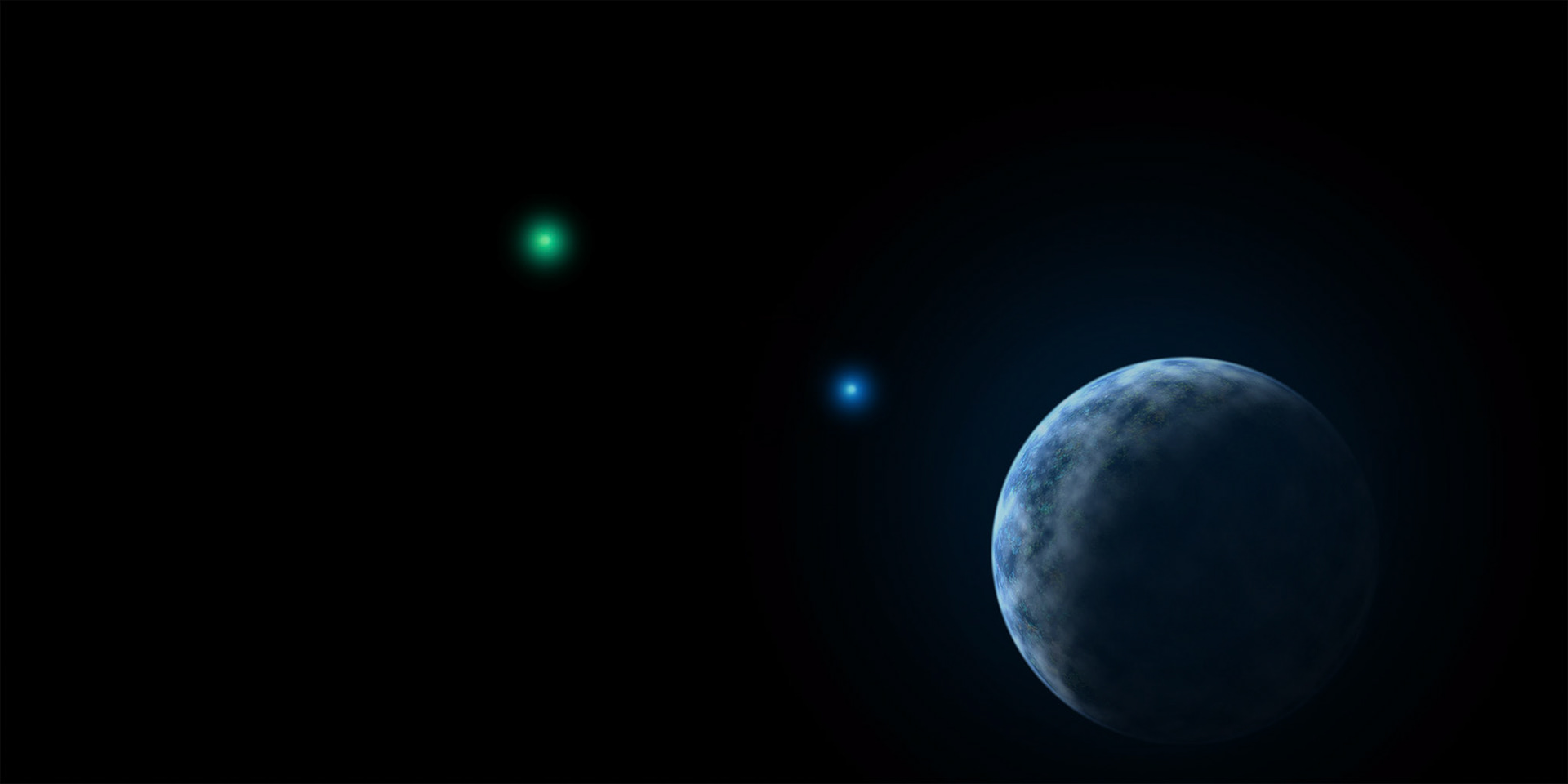 Were Montgomery living today, it's hard to imagine her not experimenting with astrophotography. The nocturnal scene below was inspired by "Other Island People," a silhouette that Montgomery took of  beach goers holding parasols near the water's edge.
I was curious what Montgomery's photograph might look like at night, so I headed to the North Shore in hopes of recruiting a few volunteers. J
ames Mitchell and Nicole Kaminski, who together run The Lookout Inn, happened to be at the beach and were kind enough to pose for this picture. 
The sky above them is the result of stacking and offsetting eighteen long exposures in order to create a swirling starfield. 
​​​​​​​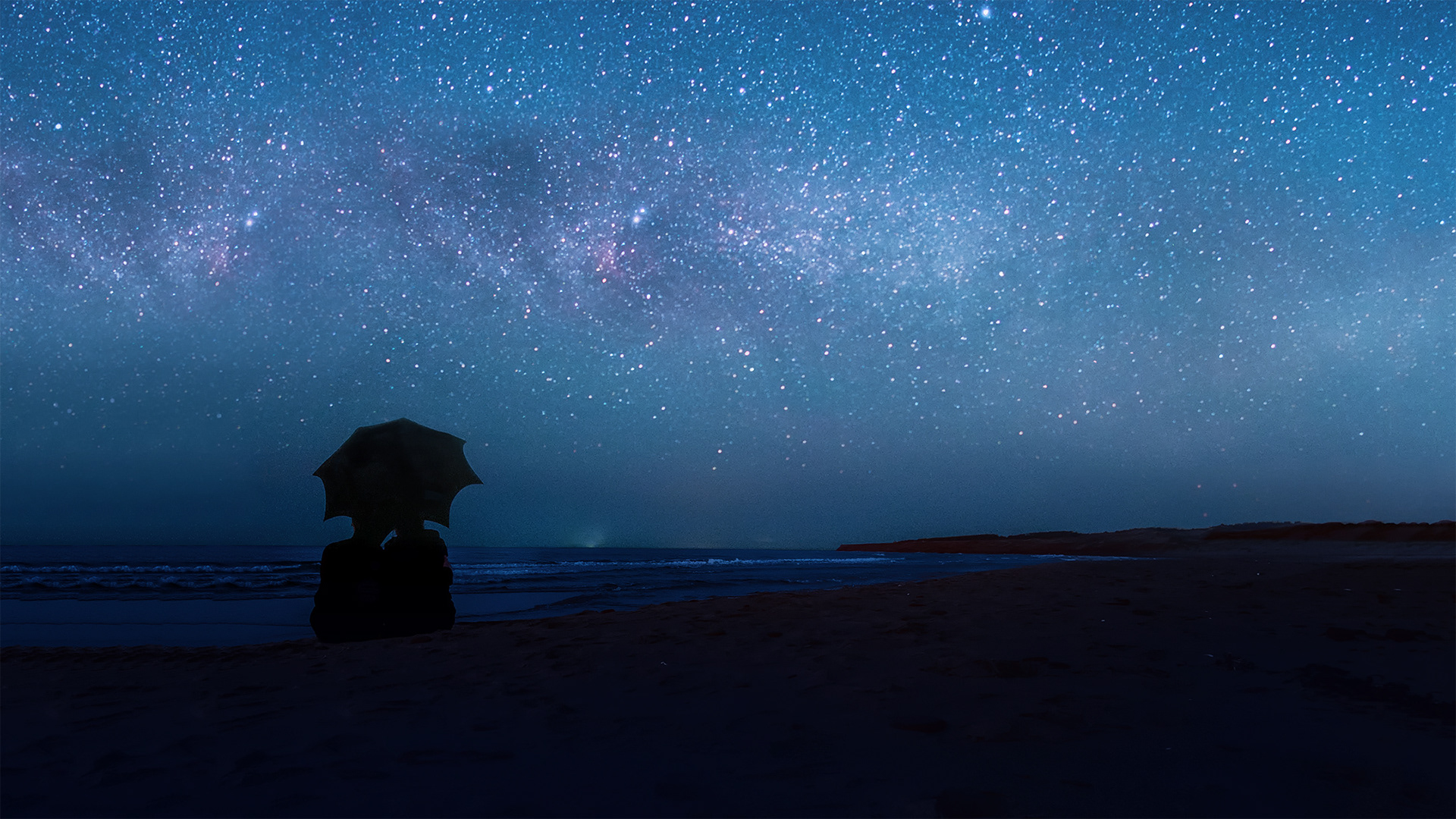 One of the most challenging aspects of this project was coming up with a table of contents to organize the material.

I didn't wan

t readers to feel as though they had to move mechanically through the chapters, so instead I took a non-linear approach to the layout by presenting a scene in which the constellations, once tapped, produced chapter previews at the bottom of the screen.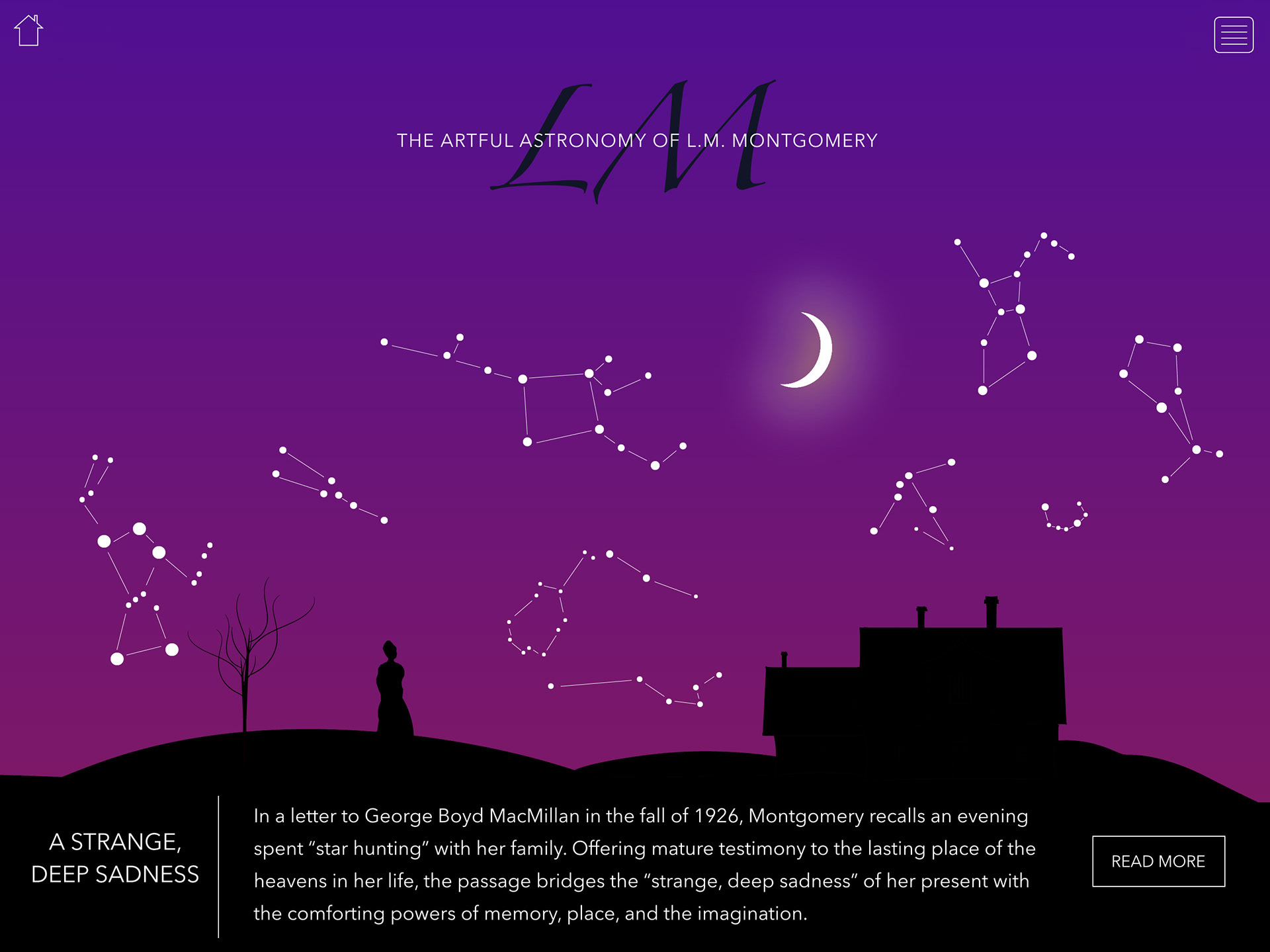 While I felt as though this version of the TOC was visually appealing, the concept itself didn't really work: users kept cycling through the various constellations as though they were the point of the project. Only rarely did they click the "Read More" button that led to the individual chapters, which meant that the design wasn't serving its purpose. 
What I came up with instead was a series of orbs that take the reader directly to individual chapters. This lay out is simple and clean, and it manages, I think, the same non-hierarchical​​​​​​​ structure that makes a lengthy project like this one seem less daunting at the outset. 
My hope is that this type of landing page will ultimately result in higher levels of engagement. After all, if readers feel as though they can choose their own path through the material, based on their own areas of interest, they are perhaps more likely to have the kind of positive reading experience that leads them to the explore the topic further.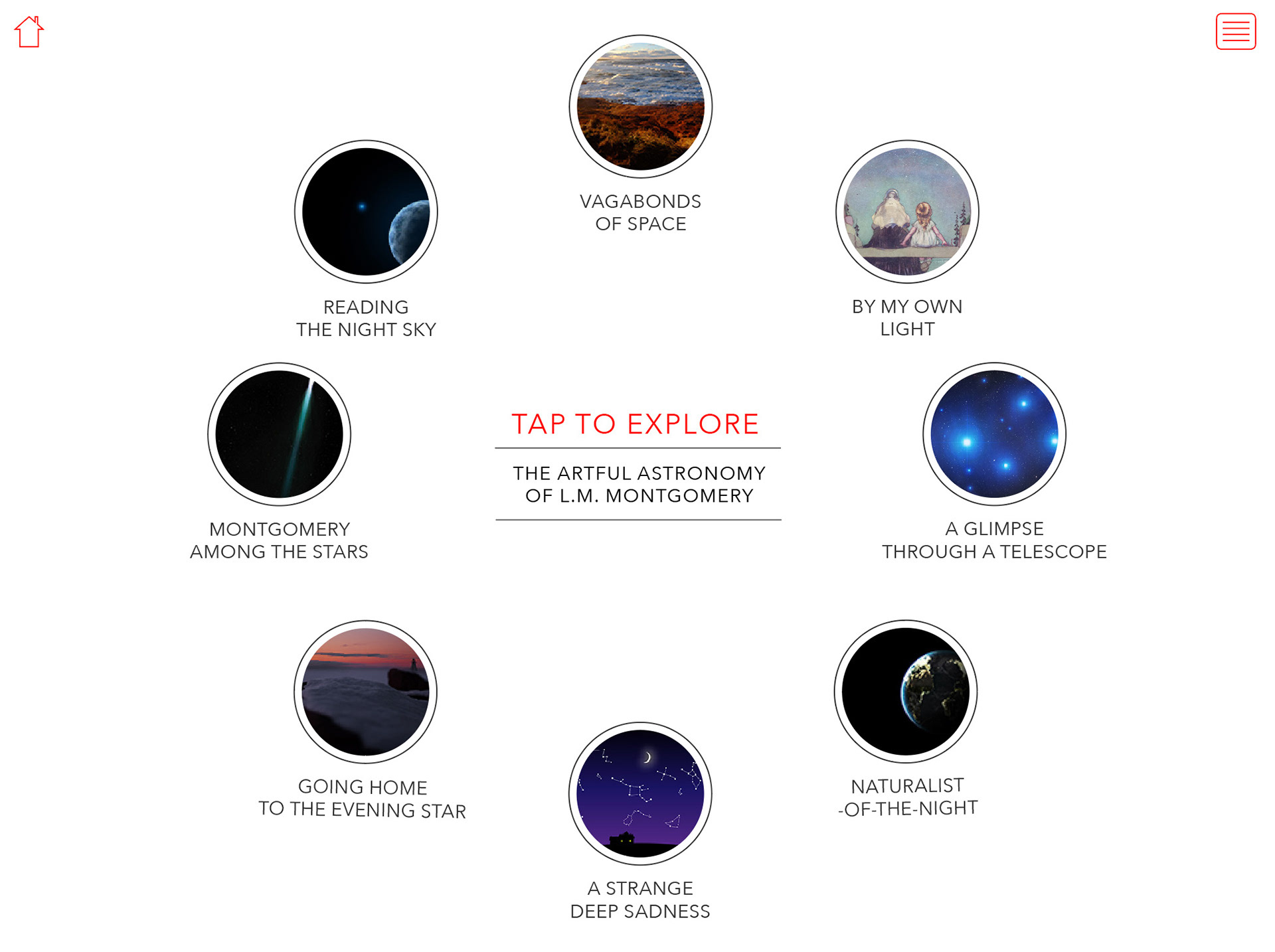 I still have two more chapters to write for this project, but I've been pleased with how it's developed so far. Creating the visuals gave me the energy I needed to refine the writing and to continue my research. As an added bonus, I think my astrophotography has improved, as I had good cause to spend my more than a few nights with my trusty Fuji XT1 under the stars.

There's still a lot to do before the official launch date, but I'm confident that the app is going to come together well. In the meantime, the interactive display is set to make its third public appearance, this time at a fall stargazing event in Cavendish, Prince Edward Island.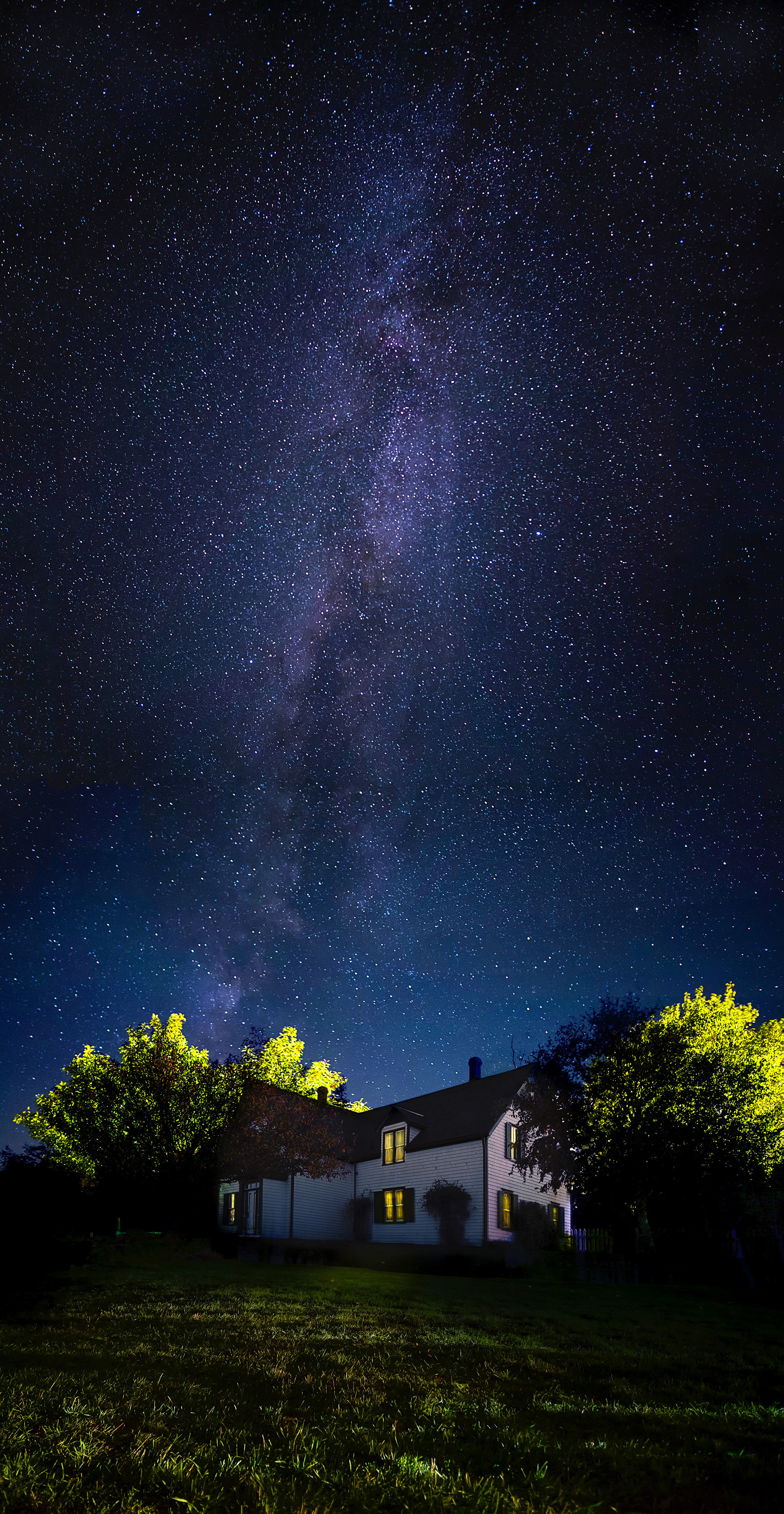 Justin Putney at Ajar Productions was good enough to put together this short video of the project, which provides a great overview of the kinds of things that I'm trying to accomplish.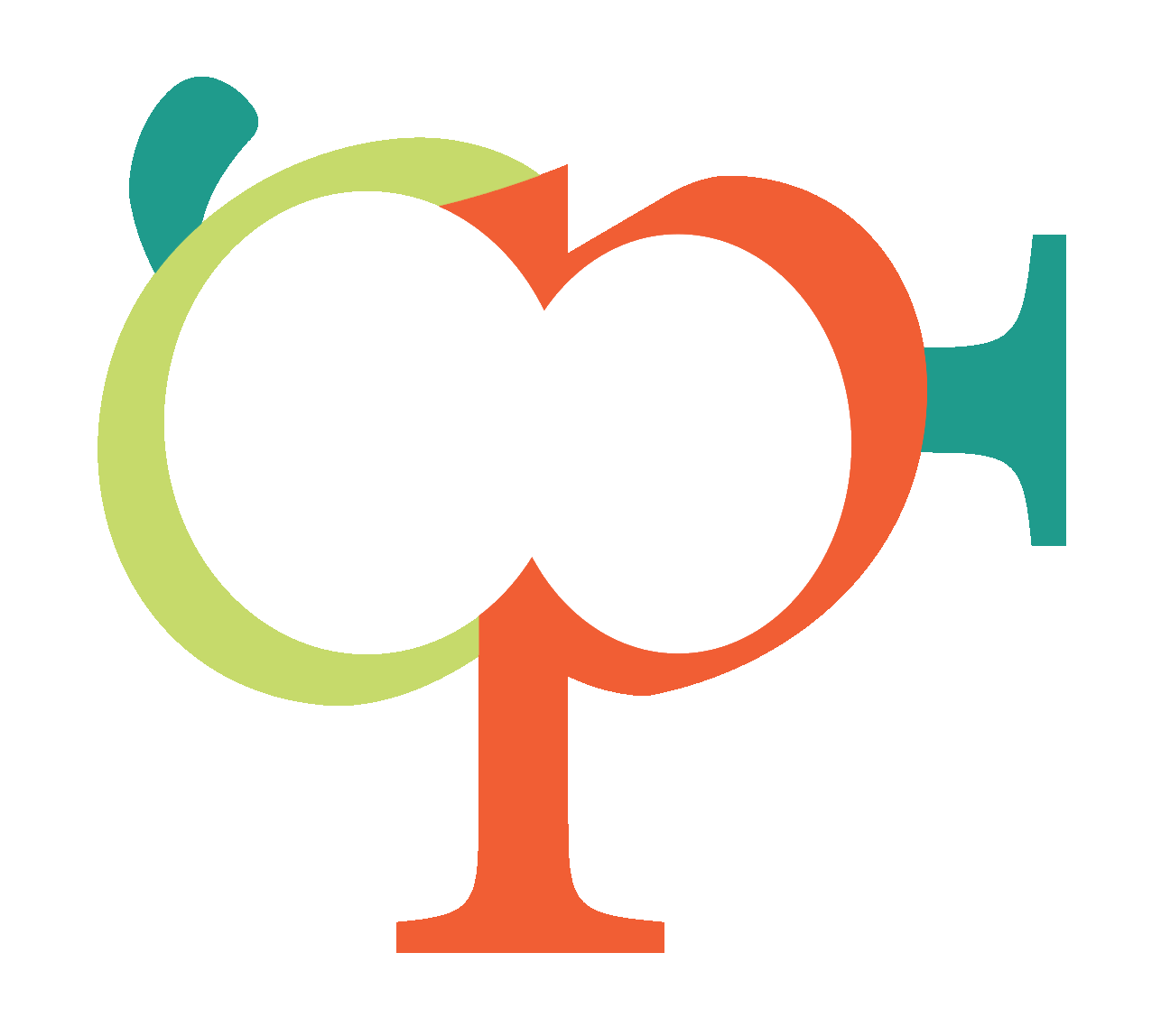 Canadian Poetry on Film is a new research project that examines film and video adaptations of Canadian Poems from 1961 to the present. What motivates the creation of these adaptations? How do they affect the interpretation of the original text? Do some poems better lend themselves to adaptation? If so, why? 
Prompted by these questions, I'm in the process of creating an online repository of film and video adaptations at poetryonfilm.ca. The site is still new, but I'll be adding more content in the weeks ahead.
UPEI JOURNALISM PROGRAM GUIDE
Helping students choose their courses is always a challenge, especially when they belong to a program with multiple streams. I put together this one-pager for a recent academic advising day, and everyone seemed to appreciate it.  
I should say that I would usually use scrollable frames to make pull-out drawers, but since this document was destined for a desktop, I just animated the drawers instead.
ANATOMY OF A SOAPBOX SPEAKER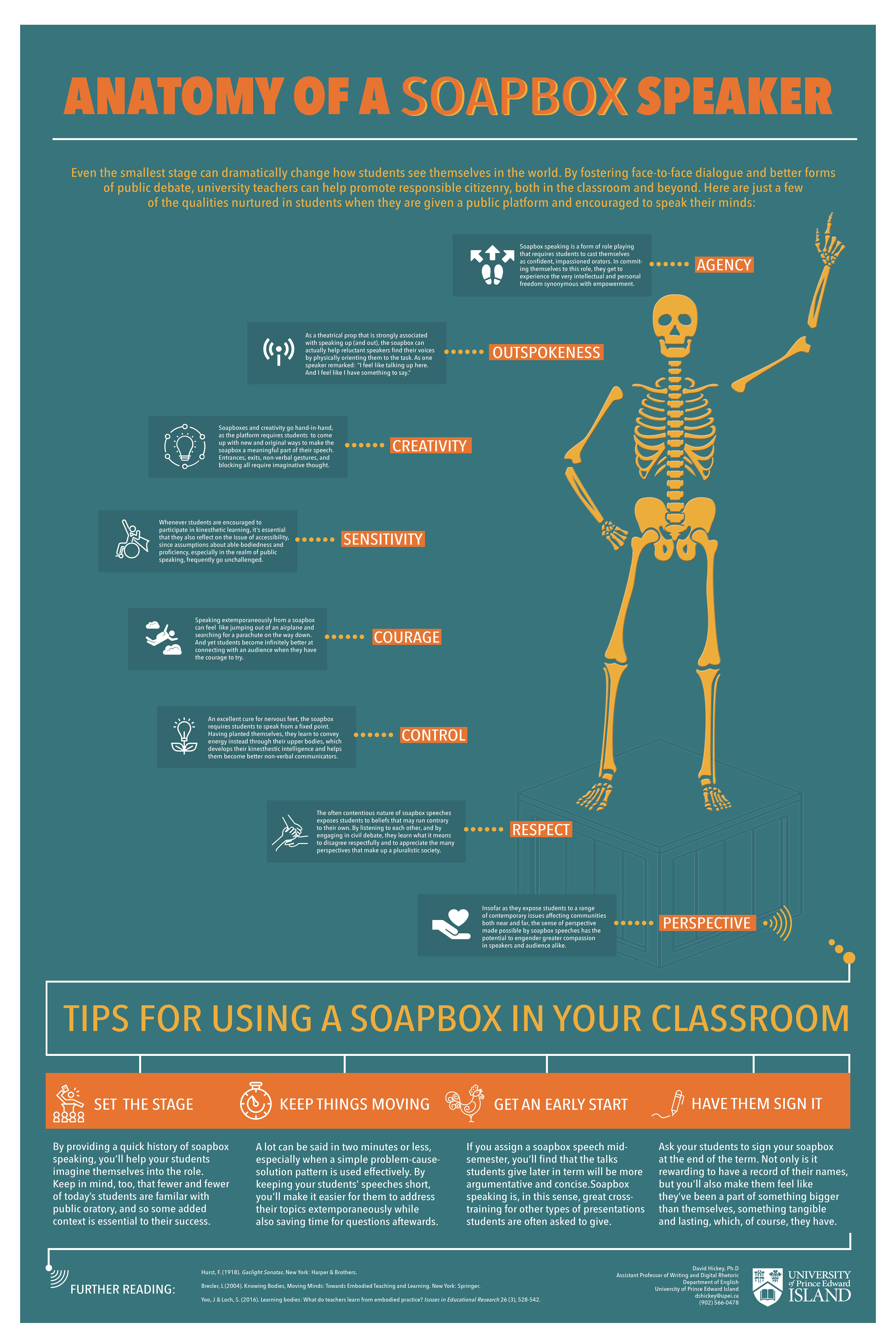 Here's a poster I put together for the Society for Teaching and Learning in Higher Education's Conference in Halifax. I enjoyed the session and got some stellar feedback. You can read more about it on STLHE's website. 
There's no shortage of good things happening at UPEI these days, not the least of which is the new Applied Communication, Leadership and Culture Program offered by the Faculty of the Arts. Check out their website or send me a note if you'd like to learn more.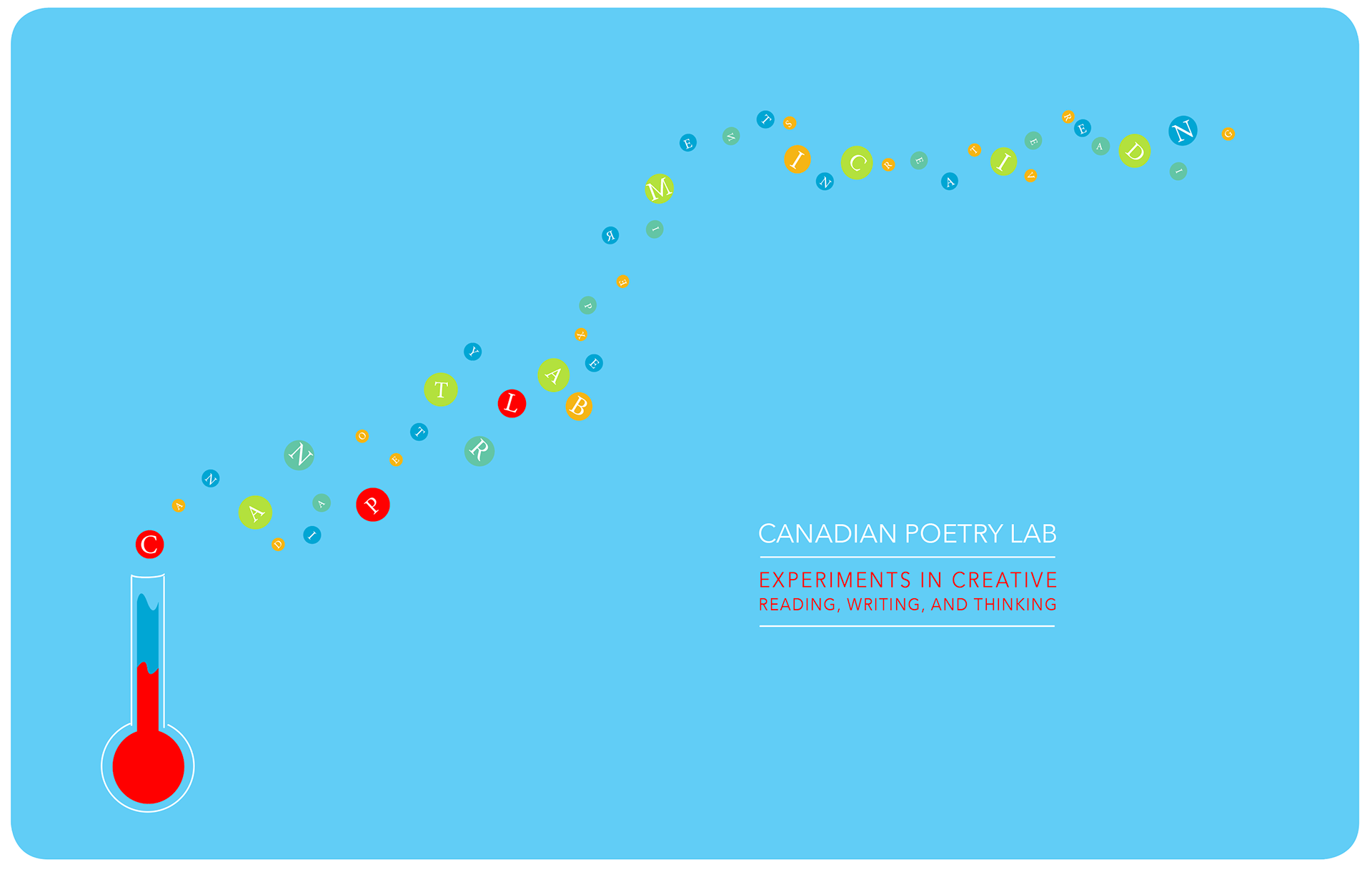 The Canadian Poetry Lab was a microsite that I put together for an undergraduate class on Canadian poetry.
Over the course of the semester, I asked my students to react creatively, personally, and intellectually to a selection of Canadian poems. ​​​​​​​They then published their projects online in our class journal,

Field Work: Creative Responses to Canadian Poems

.